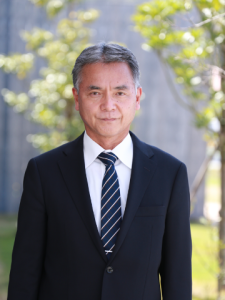 Thank you very much for visiting the website of Hiroshima Prefectural Junior and Senior High School, Hiroshima Eichi Gakuen.
Our school is an integrated junior and senior high school with a dormitory system that opened in April 2019, with the vision of "fostering leaders who can create a 'better future' for the region and the world, for sustainable peace and development of society". This year, we welcomed our third class of students, and now all three grades of junior high school students are finally here.
One of the characteristics of our school is that we promote exploratory learning using the IB educational program as our primary tool, and we are currently practicing this approach as an accredited school for the Middle Years Programme (MYP) and the Diploma Programme (DP).  We are welcoming international students and other students from overseas to the high school starting from the 2022 school year, and our students, faculty and staff are working together to create a high-level learning community where students can learn independently, valuing both the "global perspective" and the "spirit rooted in the local community" found in the rich natural environment of Osakikamishima.
Another feature of the school is the dormitory life, which has been supporting the students' mental and physical growth from the outset. The faculty and staff of the dormitory will continue to work together to make the dormitory a place where students can learn and live together with international students from the upper secondary school level, supporting each other beyond the barriers of grade and culture.
Our school aims to nurture leaders who can survive in a rapidly changing and uncertain society and create a "better future" for the community and society. We will continue to improve our students through both inquiry-based learning in the IB program and cross-grade, cross-cultural dormitory life. I would like to ask for your continued support and cooperation as well as your understanding of our school's educational activities.
Lastly, the situation resulting from the coronavirus remains delicate and unpredictable. I sincerely pray for the health of all our friends in Hiroshima Prefecture, throughout Japan, and around the world.
April, 2022
Principal Kazuhiko Fukushima