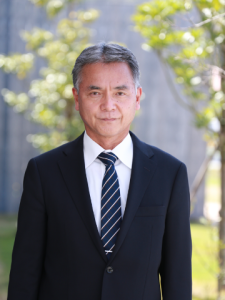 Thank you for visiting the website of Hiroshima Global Academy.
Our school is an integrated junior and senior high school with a boarding system that opened in April 2019 with the vision of "fostering leaders who can create a 'better future' anywhere in the world for the long-term peace and development of society." HiGA currently has five grades, ranging from the first year of junior high school to the second year of high school, with over 200 students enrolled.
Students attend our junior high school from all over the country, ranging from Okinawa Prefecture in the south to Hokkaido in the north. Additionally, students from all over the world recently began their high school studies alongside graduates from our junior high school program. Students from the United States, the United Kingdom, the Philippines, Uganda, Ghana, Mexico, India, New Zealand, Italy, Sweden, Australia and China are contributing to the creation of an unparalleled learning and living environment in Japan.
We hope to establish a learning community that values both a "global perspective" and the "community-oriented spirit" of Osakikamijima Town, which is known for its abundance of natural resources. We also hope to instill a sense of agency in our students so that they can learn independently while also being willing to challenge themselves in new situations. Students, faculty, and staff are all working together to evolve our learning community to a higher level than ever before.
One of the features is that we are authorized to teach the Middle Years Programme (MYP) and Diploma Programme of the International Baccalaureate (DP). We hope to promote inquiry-based learning through these programs. Members of our school community focused and collaborated on developing our MYP for grades 7 through 10 for the first four years to create a truly engaging learning environment.
Indeed, students were able to apply what they had learned at HiGA to participate in external events such as the "Hiroshima Prefecture High School Science Olympiad in 2022," where they won the gold medal. In addition, our students competed in the "1st and 2nd Koshien National Competition of Science". I am pleased to say that the results of their inquiry-based education are evident in both their academic and extracurricular endeavors. Students have also been selected as one of ten in Japan to participate in the Australian Science Scholars Program, where they will attend lectures at the University of Sydney.
This January saw our first cohort of high school students begin their studies within our International Baccalaureate Diploma Programme (IBDP) where they are all enthusiastically working together to tackle the challenges they face.
Another feature of our school's learning environment is the dormitory life, which promotes students' mental and physical development. Faculty and dormitory staff collaborate to create a dormitory experience where students can support each other across grade and cultural barriers. The dormitory system allows students to more easily learn together, and live safe and secure lives while attending HiGA.
Hiroshima Global Academy seeks to cultivate leaders capable of surviving and creating a "better future" for the community and society in a world of rapid change and uncertainty. We will sharpen the students' knowledge and skills through the IB's inquiry-based learning style and the life skills they will gain while living in the dormitory. Finally, we would like to thank you for your continued support and cooperation with our school's educational activities.
April, 2023
Kazuhiko Fukushima
Principal